Deep in the heart of Ringler's Annex in downtown Portland, a group of visual artists and musicians were gathered by the indomitable Stephanie Scelza for a week of art and music. Stephanie asked me to be part of the gig, she having been privy to the early days of my arting whilst musicians shared their songs.
Each day had different musicians paired up with a local artist, and I was fortunate enough to have my personal favorites for the Wednesday night billing. We started off with diversely talented Crystal Lariza of the band Corner, and Never Come Down Band, Shane Brown of Shane Mother F****ing Brown, and of course Stephanie Scelza often seen playing her part of Strange with The Familiars. My usual prep for the event consisted of planning out a color scheme and maybe some cursory sketches of the musicians. I was going to work all three acts onto one large canvas, but it needed a little something more than just the talent.
At some point I asked Crystal what her favorite animal is, and her surprising response was armadillo. With that, my imagination took flight and here, in all their glory, I painted the three musicians on a large bright canvas with what I could only imagine are their spirit animals. There's Crystal and her special armadillo friend, Shane and his connection with the natural world represented by a large bear, and Stephanie and her little unassuming kitty, Nina nightmare. Maybe, if there's ever a need, I'll get prints made of the piece. One, if not all three of these musicians are bound for greatness, and I'm sure the memory of a crowded night in a basement bar surrounded by good friends, good music, and good vibes will make a nice addition to their personal recording studio wall.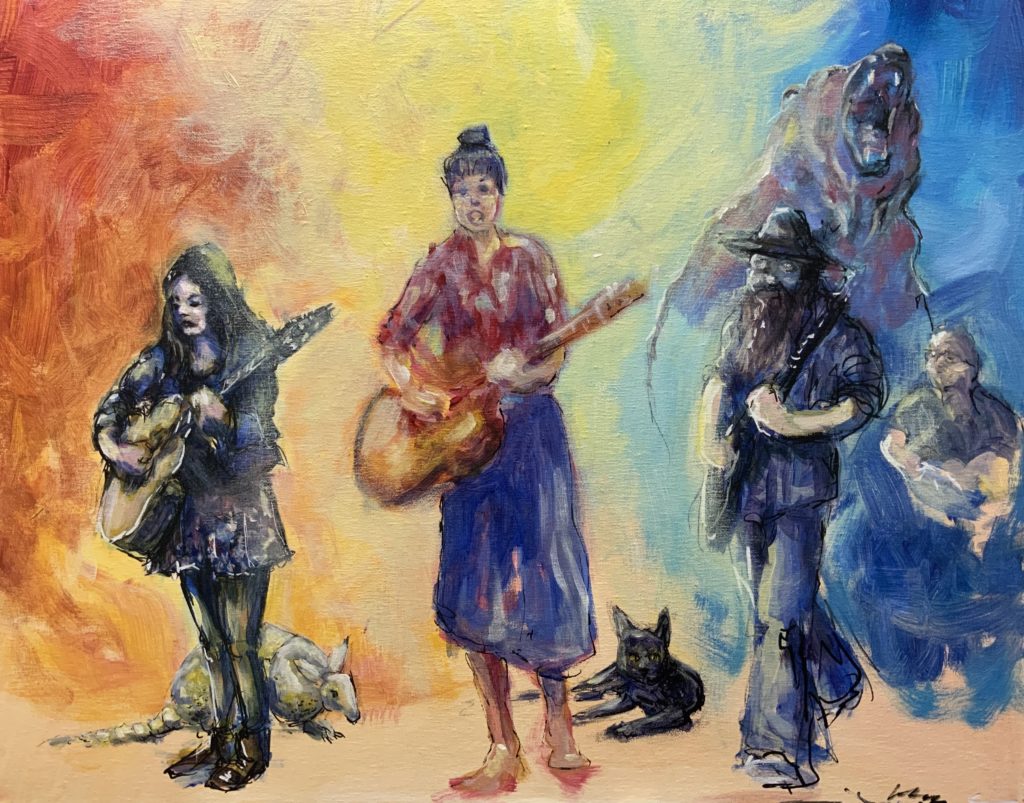 Find out more about the musicians with the links below:
Shane Brown:
Instagram: @shanesawthis
Website – www.shanebrownmusic.com
Crystal Lariza:
Website: www.cornerpdx.com
Stephanie Scelza:
Website: www.strangeandthefamiliars.com